Dear Friends,

A year has gone by and many cichlids in lakes Malawi and Tanganyika are still threatened with extinction due to overfishing by local fishermen and extraction of the rarer forms by the ornamental fish trade. I will summarize the highs and lows of our conservation efforts in 2019 below.


Lake Tanganyika



Chris and Louise Horsfall are successfully breeding three species of cichlids threatened with extinction through over-collecting by the ornamental fish trade. In fall 2020 we maybe ready for reintroduction of at least two of them. Their breeding setup is working as it should with lots of lake water flowing through the system pumped by a solar pump.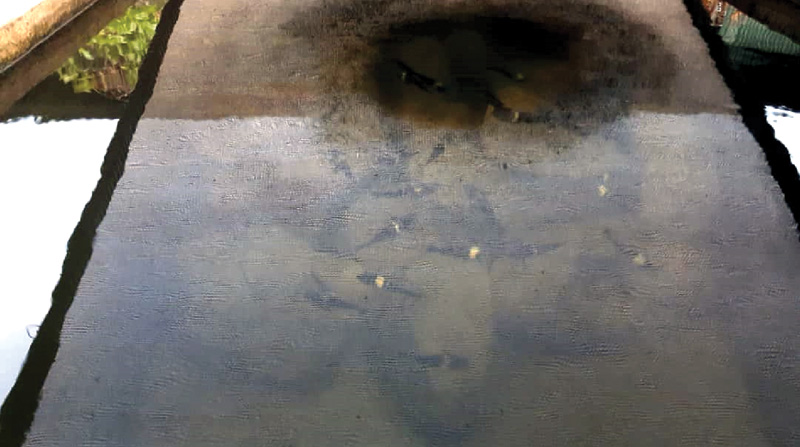 The breeding group of Maswa Duboisi at Lakeshore Lodge in Kipili, Tanzania. Photo by Chris Horsfall.


On July 16th of this year Chris and Louise received, "…an as promised visit from the Permanent Secretary of Fisheries, Dr. Rashid Tamatamah. He arrived with an entourage of about 40 people. He is a super guy who has passion in his veins. I showed him what we have managed to do with your input and the Stuart Grant Fund and he was very impressed and concerned. I mentioned all our concerns about the future projections of the lake and her fish and he shared his concerns and thanked us for making him aware. He has committed his ministry to helping, listening to, and working together to secure the lake's future for us all."

Earlier in the year the Horsfalls had a visit from Dr. Tim Davenport, director of the Wildlife Conservation Society in Tanzania, species director of Africa, and discoverer of a scientifically completely unknown monkey in Tanzania in 2003 (see www.tanzania.wcs.org/Staff.aspx). He pointed out to us that Tanganyika cichlids, or any cichlid for that matter, are not on any CITES list, which he mentioned is a crucial first step in protecting any cichlid in the long run. He explained to me that "…CITES is a trade organisation primarily and not as many believe a conservation one; but it is the only such international institution and one with global significance and to which all states are signed up. What I am advocating therefore is not specific management per se, but strengthening the political process. It is not the answer to the problems. However, I believe it is a vital first step in the political process in order to tackle the issue. There is currently no incentive for any nation to control this trade [in cichlids]. Getting cichlids (or a subset thereof) finally listed not only begins that process, but I would argue is essential if any genuine progress is to be made. Currently cichlids are off the international wildlife trade radar, which in itself is staggering. In order to get them there, they need to be CITES listed. If they are not listed, then the default official assumption is that they are fine."
Dr. Davenport offered to initiate the process which will take more than a year to accomplish as it "…requires both technical and political and communication elements but I believe it is not only doable but we can demonstrate why a proposal coming from Tanzania is ideal."
We are all looking forward to the day when cichlids are no longer lawlessly traded. I will keep you updated on the progress placing cichlids on a CITES II list.






Lake Malawi



Since Larry Johnson or anyone else didn't organize a safari to Lake Malawi this year there is no news on the wellbeing of Chindongo saulosi at Taiwanee Reef. During his 2018 trip Larry found low visibility at most places he dived at, possibly caused by the large-scale overfishing of utaka with a subsequent bloom of the algae. Murky water is good for the lake sardine, the Usipa, and most fisheries are now concentrating on collecting that species instead.

Pierre le Roux is still breeding and holding Melanochromis chipokae and Aulonocara baenschi and we are planning for a release of these species in 2020.


Pierre le Roux is breeding and growing Aulonocara baenschi in these huge tanks at Chipoka, Malawi.


In the meantime Geoffrey Furber and his team of Ripple Africa are getting more results from their conservation activities in northern Malawi. Now that they have empowered many fishing villages in the northern sector of Lake Malawi to take control of "their" part of the lake, these villages are now examples of how fishing should be done throughout Malawi. Ripple Africa is now trying to implement the empowering protocol in the central part of the country. This is a long process where village authorities and select fishermen pay a visit to some of the northern villages to see first-hand what can be achieved. Such visits are organized and paid for by Ripple Africa as well, because the overall effect is that fishermen, after having seen how it can be done, want to implement the method in their own village as soon as possible but are faced with authorities who prefer the "old method" often involving illegal nets, poaching, and bribing.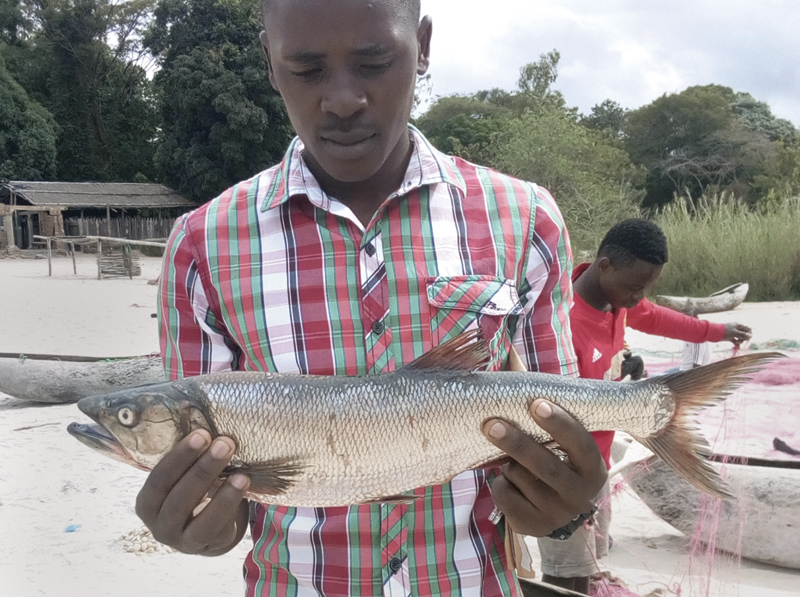 After decades without seeing the lake trout, Mpasa, a fisherman caught one at Kaweta Beach in the Nkhata Bay District in June 2019. Photo by Ripple Africa.



End July this year I received the first message from Reza Sacranie, a conservationist and resident of Malawi who lives at Namaso Bay right on the border with Lake Malawi National Park at Nkhudzi Hill. He wrote, among many other wrongs that are deteriorating life for Malawians: "…the pair trawlers, almost all owned by members of parliament, are everywhere, using illegal size nets; the subsistence fishermen no longer have a chance in the open water so they now are forced to fish in rocky and reedy areas which are mostly in the protected areas or chase the trawlers for crumbs." He is very worried about the poaching in the National Park by fishermen and has installed ANDs (anti-netting device) near his property and National Park which seem to work well. It appears that Fisheries or any other authority has no plan to prevent these trawlers from using illegal nets or prevent them from fishing in restricted areas in the southeastern arm of the lake, which are off limits to the local fishermen.
After having brought Reza in contact with Geoff from Ripple Africa, a plan was made to already start the conversion of the fishing villages and empower them to take matters in their own hands. This will be a long process as many village authorities have been corrupted by the owners of the trawlers and reliable leaders have to be selected to start the process with. Our Fund has donated $3000 to Ripple Africa aimed at the first selection of representatives of the various fishing villages along the SE arm of the lake and to educate them about the new approach. It will also cover in a large part an organized trip to the Nkhata Bay area where selected delegates can learn how village empowerment and nursery ground protection helps the fishes to reestablish themselves and provide greater catches of larger fish.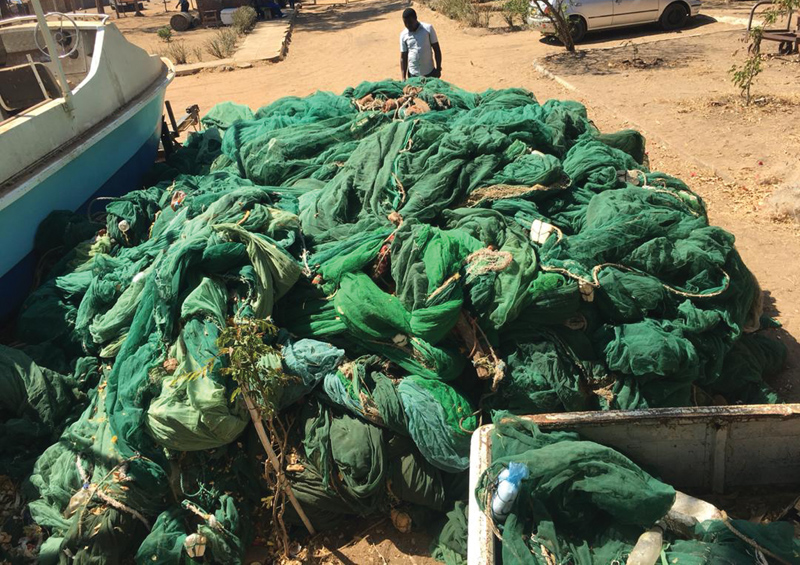 These are the mosquito nets that were used for fishing, confiscated early October 2019 in the Salima District
(central Lake Malawi). Photo by Ripple Africa.



The first of those meetings took place September 13-14 in Mangochi. Here some excerpts from the report:

"Mr Force Ngwira, Country Director for Ripple Africa, and Mr Dellings Kamenya, District Fisheries officer (DFO) for Nkhata Bay district, were invited to Mangochi District to meet with Mangochi DFO, Lake Malawi National Park officials, TA (Traditional Authority) Nankumba, Councilors and some community members from Lake Malawi National Park surrounding area. Ripple Africa were asked to share their experiences of what is happening in Nkhata Bay District under the Fish For Tomorrow fish conservation project, and given the opportunity to learn about fisheries related interventions being implemented in Mangochi District. The main objective was for the two sides to discuss success stories and challenges faced and plan an educational visit for Mangochi stakeholders to see what is happening in Nkhata Bay.

After the meeting, the Mangochi DFO took us to Makawa Beach where we saw with our eyes a lot of illegal fishing gears. There were more than 150 Chirimila fishing nets with large mosquito nets in the middle of each of these nets.

Early in the morning of the following day, we drove to the opposite side of the lake and visited some beaches at Malindi Mission Hospital area. We were all saddened and felt very sorry to see baby Usipa, locally known as Bonya, spread on drying racks which were caught the previous night by local fishermen who seem not to care about the future of the lake and their own children.

As if this was not enough, a lot of illegal fishing gears—mainly huge drag nets made by joining approximately 100 to 200 mosquito nets together—were drying on the beach in preparation for another day's fishing. There were probably over 150 very large nets all made out of mosquito nets. We never saw a single legal fishing gear."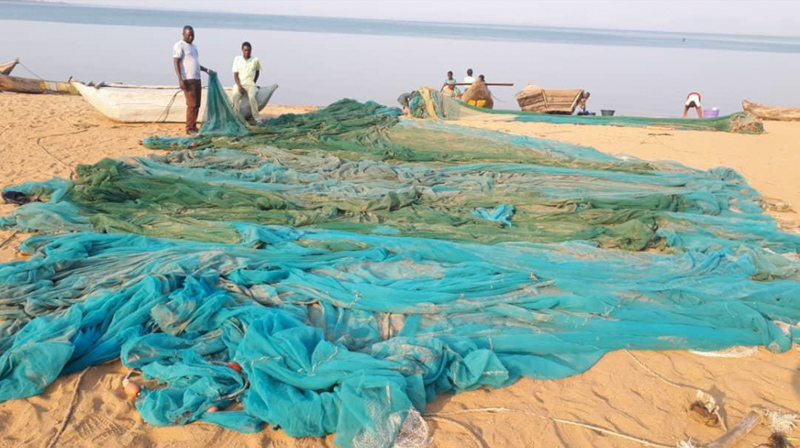 Illegal fishing gears—mainly huge drag nets made by joining approximately 100 to 200 mosquito nets together—drying on the beach in preparation for another day's fishing. Photo by Ripple Africa.


As you can see the biggest concern is the illegal use of mosquito nets for fishing and a great deal of activity performed by the village authorities in northern Malawi is confiscating such nets. Some of the raids resulted in literally thousands of seized mosquito nets which are then burned preventing further deployment.
In addition to us assisting Ripple Africa in a small way also the ACA appears to be interested in helping the non-profit. It is a long and difficult way but I believe that the method of fish conservation that Ripple Africa has introduced is the only way to ensure a future for Malawi cichlids and for the local fisherman.


I want to end this message to thank all of you who have contributed in 2019 to the Fund to conserve the cichlids in lakes Tanganyika and Malawi. Thank you!


$1 to $99:
Patrik Hultqvist
Kaikoa Anderson
Genki Furumura
Kasuaki Kasai

$100 to $999:
Findurnemo
Jimmy Bjerenius

$1000+:
Nordiska Ciklidsällskapet (Sweden)
Perth Cichlid Society (Australia)
Dick Au (USA)
Patrick Tawil (France)
Babes in the Cichlid Hobby (USA)

Ad Konings